Week 9: Taking up Space
'The mountains have curves too'
Everyone should feel free and comfortable outdoors, but fatphobia continues to run rampant in our public spaces and manifests in ways that might surprise you. This week I have three pieces on how it feels to be a fat woman/femme in an outdoor world that still prizes one type of body. [*I use the term fat because each of these articles do the same, but it is important to mention that not everyone prefers this term].
"The ocean does not apologize for its depth and the mountains do not seek forgiveness for the space they take and so, neither shall I" ~ Becca Lee
Art by Alexis Amann
Run Through:
Christa Singleton was proud of herself for nearly making the summit of Mt. Kilimanjaro, but she hadn't seen anyone else that looked like her the whole way up. Kathleen Rellihan writes for Glamour about the Curvy Kili Crew, a group started by Singleton in 2017, after that first attempt. Singleton and 20 women made a goal to climb the mountain by the 2019 International Women's Day. Diet and weight loss were outlawed topics in the group, and all the women supported each other in times of need. Their ultimate goal was not to summit Kilimanjaro but to foster community and make it clear that you can be fat and still climb mountains. Curvy Kili Crew member Diandra Oliver said, "When we don't participate, the industry can retain its thin, white, male hierarchies—we are definitely so over it."
On Review:
☆ Since this article was published, the Curvy Kili Crew successfully summited Kilimanjaro. Though only two out of the 20 women made it to the very top, everyone reached their own personal goals.
☆ I first heard about the Curvy Kili Crew on She Explores. This episode is worth listening to because it has sound bytes from the actual climb.
☆Kathleen Rellihan was part of a group that summited Kilimanjaro in 2015, but never mentions this in the article.
Art by Frances Cannon
Run Through:
Sydney Greene writes for Teen Vogue about Summer Michaud-Skog's confusion when people on the trail looked weirdly at her and her girlfriend. When Michaud-Skog realized the stares were due to them both being fat & queer, she decided to start Fat Girls Hiking. Michaud-Skog wanted to create a space for fat women to get outside and be themselves, which meant no weight-loss talk or comparing. "The group hikes are all about self-care and healing and giving ourselves permission to honor our bodies needs..." said Michaud-Skog. According to member Ani Janzen, the biggest struggle on the trail is when other hikers assume they are on a weight loss journey. The group currently has over 24 thousand followers on Instagram and has contributed to pushing brands like Patagonia and REI to expand their sizing.
On Review:
☆ Teen Vogue rarely rarely shares stories about equity in the outdoors. This could be a sign that outdoor DEI is making its way to a more mainstream awareness.
☆ The writing in this story is a bit repetitive, choppy, and has a couple minor errors.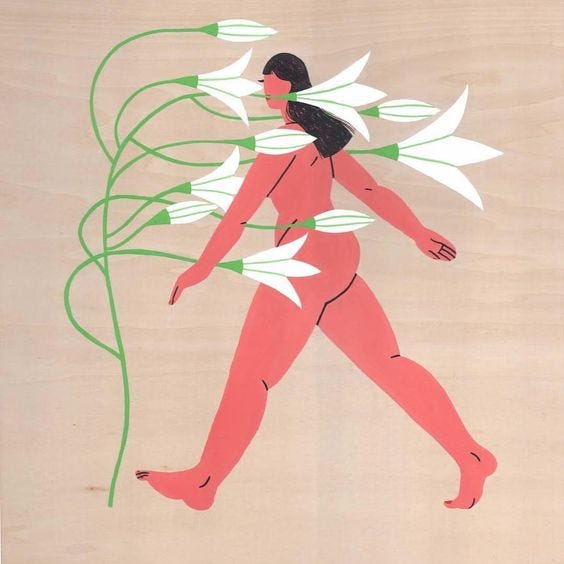 Art by Unknown
Run Through:
This isn't the first time Jenny Bruso, founder of Unlikely Hikers, has come up in this newsletter, but her perspective on this topic is crucial. Bruso explains that it's the seemingly harmless comments she and other fat women get on the trail that are the hardest to hike through. Bruso created this guide for Outside Magazine to teach straight-sized adventurers how they can change their behavior to better support fat adventurers. She says to remember that not all hikers are trying to lose weight or climb the mountain the fastest. "What would our relationships with ourselves and each other look like if we removed moral capital and essentialism from exercising, food, and bodies? I think we'd all be happier and make healthier choices all around," said Bruso.
On Review:
☆ It was effective that Bruso herself wrote this, as opposed to an Outside Magazine writer.
☆ One additional suggestion for straight-sized hikers is to always ask "is anyone not ready" instead of "is everyone ready" at the beginning of a hike. Often, someone is not heard when asked the latter because they are too intimidated or embarrassed to speak up.
More resources:
---
Thanks for checking in this week! Don't forget to take up space and be conscious of your words!